Please note the all the therapists at Bridges and Pathways Counseling Services Inc. are Independent Contractors.
Meet the Staff at Forest Lake
---
Phone:651-982-4792
Beth provides a counseling style that creates and builds positive connections. Her approach is primarily cognitive-behavioral therapy with an incorporation of client-centered therapy. She helps participants to learn tools to tear down walls of separation and will be inspired to live in an environment of acceptance, love and respect. Beth commits to serving individuals, couples and families with the focus placed on their strengths, development and of their life circumstances while offering a safe environment that encourages healing, growth and new possibilities. Clients will find the self-determination while focusing on health, wellness, empowerment, education, and healing in counseling services. Individuals and family members gain tools and resources that aid in increasing communication skills and gaining hope for their future. Her approach focuses on identifying negative/unrealistic thoughts, which in turn changes the individual's feelings and behaviors. Beth works with Individuals, couples, adolescence and children.

Education
Bachelor of Science in Psychology, Northwestern College, Roseville, MN
Masters Degree in Human Development with specialized focus on Marriage and Family Therapy, St. Mary's University, Minnesota
Licensure
Licensed Marriage and Family Therapist (LMFT)
Certified Family Mediation Training, Hamline University Law and Graduate School, St. Paul, MN
Certified Parenting Ti
---
Dr. Sue Hoisington
Phone: 651-982-4792Ext. 2
Sue's expertise is in working with adult clients that struggle with depression, anxiety, trauma and eating disorders. Much of her experience is working with clients with co-occurring mental health and addiction issues. She is competent in diagnostic assessment as well as therapy. She has experience in the following evidence based practices: Motivational Interviewing, Cognitive Behavioral Therapy and Twelve Step Facilitation.
Sue has been with Bridges and Pathways for a little over a year. She lives in Forest Lake and appreciates being able to be present in the community and to be able to give back to the community. She enjoys the agency feeling like a private practice plus the benefit of working next to some very talented colleagues! At the same time she also works full time at People Incorporated in Minneapolis.
She has been an adjunct faculty at the Hazelden Graduate School of Addiction Studies. I have presented across the US on co-occurring disorders.
Education
Undergraduate in Psychology, College of St. Teresa in Winona, MN
Masters in Clinical Psychology, University of Wisconsin, Oshkosh
Doctorate in Counseling Psychology, University of St. Thomas, St. Paul, MN
Memberships
MN Psychological Association
Member of the Council for the National Register of Health Service Providers in Psychology
Past member of the American Psychological Association
Licensure
Licensed in the State of Minnesota as a Psychologist
---
Paul Mladnick
Phone:612-719-7966
Paul has been working in the counseling field for over twenty-five years, mostly helping people with alcohol and drug addiction. Paul received his chemical dependency counselor training at the University of Minnesota . Paul attended the Alfred Alder Graduate School to complete the coursework needed to qualify for the Minnesota license in Marriage and Family Therapy.
He started counseling at Bridges and Pathways Counseling Services in 2006 shortly after it had started as a company. Paul enjoys working with adults and adolescents who want help with substance abuse, compulsive gambling, anger management or relationship conflicts. He also works with couples who want help with communication issues, problems related to trust and coping with addictions. He has received specialized training in helping people with compulsive gambling and family members of problem gamblers.
Paul uses a combination of Cognitive Behavioral Therapy and Alderian Therapy as his primary approaches to counseling. He is a believer in motivational interviewing as a counseling technique to empower his clients. He believes in the wisdom of the Twelve Steps of AA, NA, and GA as a helpful adjunct to treatment for anyone with addiction and the Twelve Steps of Alanon for family and friends.
Education
Bachelor of Science , University of Minnesota
Master of Science in Guidance and Counseling, University of Wisconsin, River Falls
Memberships
On the board and faculty of the National Rural Institute on Alcohol and Drug Abuse
· Licensure
Licensed in Alcohol Drug Counseling (LADC)
Licensed in Marriage and Family Therapy (LMFT)
Certified Counselor through the International Gambling Counselor Certification Board
State approved Gambling Treatment Provider for the State of MN
---

Breanna Herbst
Phone: 651-982-4792 Ext. 4 Email: [email protected]


Breanna's therapy style is focussed on building trusting and positive connections with clients. She utilizes multiple therapy techniques including: Cognitive Behavioral Therapy, Person-centered, Psychodymanic, Family Systems, Diaglectical Behavioral Therapy, Academic skills training, and Communication skills training. She has experience working with individuals 8 years of age and up and has spent a good portion of her career working with the teenage and emerging adult population.

Areas of experience include treating-
Anxiety
Depession
Mood Disorders
Adjustment Disorders
Family Changes
Marital issues>
Behavioral problems
Academic difficulties
College Transistion issues
Communication issues
Self Injurous behavior
Self esteem issues>
Women's issues
School-based therapy
Adolescent/Teen issues

License: Licensed Professional Clinical Counselor (LPCC)- MN Board of Behavioral Health and Therapy
Previous- Licensed School Counselor

Education: Master of Science Degree in Counseling Psychology, St. Cloud State University
Bachelor of Arts Degree in Communication Studies, Minor in Human Relations, St. Cloud State University
_____________________________________________________________________________________________
Dr. Janaka Hanvey
Phone: 651-982-4792 ext. 5
Janaka's experience includes working with adults, adolescents, and couples. Dr. Hanvey is experienced at both assessing and treating depression, attention difficulties, anxiety, stress, behavioral problems, communication issues, grief, trauma, low self-esteem, gambling, and men's anger issues. He is also trained in regression hypnosis.
The most important component of Janaka's therapy is creating an atmosphere where clients feel supported and valued. Janaka uses a style of therapy that is self-empowering and non-judgmental. His approach utilizes positive psychology principles combined with mindfulness strategies. Helping clients to discover their own answers is the main goal of therapy.
Janaka has lived and worked in the Chisago Lakes area since 1994. He enjoys the community and raised both of his children in this area. He has worked in both the mental health field and chemical dependency field.
Education
Doctorate Degree in Clinical Psychology from Saybrook University
Master's Degree in Counseling Psychology from Winona State University
Bachelor of Science Degree in Humanities from University of Minnesota
Licensure
Janaka has been a Licensed Psychologist in the State of Minnesota
---
Adrienne (Addy) Kovar

Phone: 651-982-4792 Ext. 8 | Fax: 651-982-6035
Addy's therapy style is focused on fostering a positive environment and building trust. Her approach is primarily cognitive-behavioral therapy with a provision of short term, solution-focused therapy, as well as long term supportive therapy. Addy has experience in providing individual therapy for adults, adolescents and children (8+) including play therapy for younger children. Her experience also includes providing senior mental health and support for their extended families and caregivers, adolescent issues, stress management, grief and loss, depression, family and parenting issues. Furthermore, Addy assists clients in maximizing the utilization of community resources in order to achieve their optimal level of wellness.
Education
Bachelor of Arts degree in Sociology
Minor in Native American Rural Social Work, UW-Stevens Point
Masters degree in Social Work, Family Practice Concentration, Augsburg College
Licensure
Licensed Independent Clinical Social Worker (LICSW)
---
Dr. Jorja Jamison
Phone: 651-982-4792 Ext. 0

Sometimes we find ourselves on our life's map in an area with which we are unfamiliar. It may be new territory we are exploring, or a realization that a well-worn path no longer gets us where we are trying to go. We need another person to help navigate our way. Therapy can be a place where we partner with someone and explore alternative routes. First and foremost Jorja strives to provide a safe, welcome, and inviting atmosphere where you will feel comfortable exploring your life and the issues for which you are seeking help. Jorja believes you are the expert in your life; her goal is to join you, help you harness your many strengths, and learn additional ways to approach situations. By putting new tools in your tool kit, Jorja seeks to help you become better equipped to navigate your map on your own. She specializes in working with individuals and couples presenting with issues surrounding depression, anxiety, alcohol and drug use, life transitions, relationships, and finding your authentic self. She welcomes individuals from diverse backgrounds, including race, ethnicity, sexual orientation, gender identity and expression, socioeconomic status, age, and physical ability.
Education
Master of Arts, Latin Language and Literature, University of North Carolina at Chapel Hill
Master of Science, Educational Psychology, University of Illinois at Urbana-Champaign
PhD, Counseling Psychology, University of Illinois at Urbana-Champaign
Licensure
Licensed Psychologist (LP) in Minnesota
Memberships
American Counseling Association
---
Ciara Berger
Phone: 763-245-6030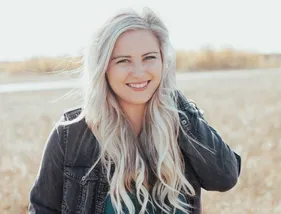 Ciara is pursuing licensure as a Clinical Therapist to become an LPCC in the state of Minnesota. Ciara has provided various therapy services since 2018 including in home and treatment settings. Ciara graduated in 2021 with her MA in Counseling Psychology from the University of St. Thomas.
Ciara sees children, teens, and adults. Ciara addresses a variety of disorders including depression, anxiety, OCD, PTSD, grief, anger, trauma, and family relational problems.
Ciara has special training and interest in working with trauma, veterans, and forensic populations. She loves to help individual's move towards healthier relationships and lifestyles. Ciara enjoys her work and deeply respects the therapeutic relationship.
Education;
Bachelor of Arts degree in Psychology, Concordia University
Minor in Criminal Justice, Concordia University
Masters degree in Counseling Psychology, St. Thomas University
Licensure
Clinical Trainee Therapist/Pursuing licensure hours as LPCC